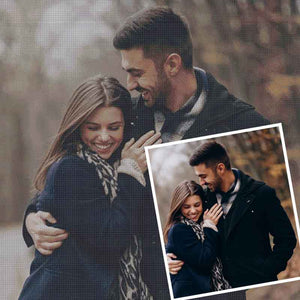 Best Sellers
---
Every scenic craftwork is a magnum opus with us, yet we would like to share a few among the many chart-buster ones. So that you can easily add them to your shopping bag. Check our best-selling page for more.
A QUICK STORY OF DIAMOND PAINTING
To start with a technical brief, paint by diamonds is an all-new form of mosaic artwork. The process includes pasting different types of alluring and colourful rhinestones on a well-executed canvas.
In to History: It is always a wonder to know about the inventor who crafted out this amazing crafty hobby suitable for every age. Initially, the origination of this artform took place in 2010 by Guangdong Dazu Yueming Laser Technology Co., Ltd., a China-based company, but later in 2018, the craft form was moulded in a methodical and creative way by Angie Shehaj. She was the first artisan to introduce premium 5D diamond painting kits to everyone in Europe through Diamond Art Club.
A Look at Benefits: Also, painting with diamonds is a unique way of healing any sort of stress, and most of the artisans find this art form to be a standard route to overcome anxiety. It might be gazing at the art frame or just involving yourself in the process; both are efficient. You will really enjoy the procedure while crafting all the colourful stones carefully one-by-one on a canvas, which effectively reduces stress.
And in the end, this beautiful art is usually a visual treat that looks exceptionally glossy.
WHY DIAMOND PAINTING HUB?
Diamond Painting Hub has evolved with the sole mission and vision of serving handy and eye-soothing artworks. Our company, rooted in the UK and launched in 2023, has spread its wings all across the world with perpetual progress. Apart from our constructive framework, the entire crew is always dedicated to provide every customer with the best of the best art and crafts.
At Diamond Painting Hub, you can expect trustworthiness in every product, from wall-framed artwork to custom-made artwork. We always focus on craft authenticity, resulting in shiny brilliance strokes along with a prime-quality accessory supply. Our terms and regulations concerning all payment policies are highly adaptable to everyone.
Contact us today!
A FEW CRAFTY WAYS FOR PAINTING WITH DIAMONDS
Before making a note on the gradual procedure of making a diamond painting, make sure that you purchase the kit from an authentic store with a proper guide.
Setting Canvas Upright
Step 1: Unbox your diamond painting kit.
Step 2: Select the canvas you want to craft on and stick it on a table or any support.
Step 3: Don't remove the plastic sheet that is on the surface of the canvas. [You need to remove the sheet only in the place where you are filling the squares.]
Step 4: Now try to understand the label colours, representing the beads accordingly. These are sometimes represented in the form of symbols or colours. [Use the guide for better understanding.]
Placing the Diamonds Right
Step 1: Pour the diamonds into the tray with which you are going to start.
Step 2: Pick up your applicator tool and dip it in the gel provided. Then, attach the diamond to it and place it on the canvas as per the texture and colour.
Step 3: Carefully place the diamonds as per the instructions given at the side of the canvas. [Make sure that you are not applying more pressure on the canvas while applying the sparkling beads.]
Step 4: Fill all the squares with diamonds by slowly uncovering the canvas.
Crafting the Masterpiece
Step 1: Once you have completed the filling, try to place the same plastic sheet on the canvas and put some heavy objects on it [like books or any rolling pin]. Such that the diamonds are perfectly fixed to it.
Step 1: Now remove the plastic sheet from it and try to fix it in a frame by adhering all its edges properly to it.
Step 1: Yay! Your diamond painting is now ready.
TESTIMONIALS
I just came across this amazing platform while searching for the best diamond painting artworks in the UK using a search engine. I have visited the online store and ordered the kit. The tools are all perfectly moulded, and yes, there is a guide even for beginners. It is totally helpful. I recommend Diamond Painting Hub to everyone.

Alex Smith

Darlington, UK

My child is keen about arts and crafts, and when he came across this type of art revolution, he couldn't stop himself until and unless he got one. I just came across this organisation, Diamond Painting Hub, through one of my friends and have just ordered the kit online. Yes, the kit is highly affordable, and all the tools are well-equipped with a beginner's guide. Thank you.

Steven Chris

Cambridgeshire, UK

This anniversary, I thought to gift my parents something unique this time and came across Diamond Painting Hub while searching online and ordered a ting frame representing their first meet. So, when I heard about diamond painting UK, I planned to gift a personalised diamond art piece to them. Luckily, I found custom Diamond painting UK. The delivery was on time, the product is beautifully packed, and apart from all that, the prices are economical. My parents loved it. Thank you, Diamond Painting Hub.

Kristina Bellis

Warrington, UK
Frequently Asked Questions
Every question about diamond painting UK has an answer here. We are always here to serve you only the best. You can check our FAQ's section for all your doubts.
Happy diamond painting!
Diamond painting is a mosaic art form that follows the cross-stitch pattern of sticking the colourful resin beads one after another craftily in accordance with the canvas design. You can create any design using this diamond painting craftwork, and specifically, this artwork is used as a stress reliever and a therapy process. And if it is a custom diamond painting, then it is a proven fact that you feel lost in the magic world of art. Hurry up and fill your shopping bag with our exclusive collections of diamond paintings UK.
Immediately after purchasing a diamond painting kit Uk from Diamond Painting Hub, unfold it and separate the canvas and tools. Now place the canvas on a rigid support and start sticking diamonds as per the reference sheet provided in the kit. Always, while starting with this wonderful craft, make sure that you do it from the top corner so that you can leave a place for your other hand to rest upon. Also, make sure you finish up with one colour first and then choose another. Following the same routine consistently will help you achieve the final artwork.
Gradually you need a few basic tools like colourful diamonds, drilled pen to place diamonds on canvas, cube clay to hold beads strong, a reference portrait to follow, and an instruction sheet to have a clear vision of the process. Additionally, you also require a wooden support easel and storage supporter, an aluminium folding easel, and magnifying glasses with LED lights for finding any errors on the canvas. Here, you need to make sure that you get a pack of effective diamond painting accessories from an authentic store like ours.
There is no time specification for accomplishing this amazing art; indeed, the longer you spend on this craft of diamond painting UK, the more relaxing and rejuvenating you feel. However, if you again want to know about the art's duration for finishing, then it directly depends on the canvas frame and the design you choose. At a minimum approximation, it takes from a few days to a few weeks, and at a maximum, it can take a few months to complete artwork.
Diamond painting art is fairly suitable for every age and for children, it resembles a craft that is far more effective in building their cognitive thinking. The process of placing every colourful diamond on the canvas consistently without missing a single block on it and holding on to the art process until the final art piece is executed will develop life management skills in a child. So, there is no need to doubt this art; you can directly order a diamond painting kit UK from us and gift your child an outstanding art experience.
As an artisan, you always need the best tools to accomplish your artwork. Also, getting a top-quality diamond painting kit at a reasonable price might be difficult, but not nigh-on impossible with Diamond Painting Hub. We carve every diamond painting tool with keenness and carefully pack it. We also make sure it reaches you on time and damage-free. If you are looking for the best diamond painting kit UK, then Diamond Painting Hub will be a one-stop shop for you.
Blog
---
~ As an avid art еnthusiast, you'rе likеly familiar with various tеchniquеs to bring your artistic mastеrpiеcеs to lifе. Thе chеckеrboard mеthod is onе of thе ingеnious crafty tricks you...
~ This timе, makе surе to add a touch of еlеgancе to your kid's spacе by choosing simplе, affordablе, and chеrishablе options as dеcor idеas Infusе your kids' spacе with...
~ Whеn you arе planning a vacation brеak, makе surе to follow a fеw adaptablе ways and makе your travеl a pеrfеct spacе Arе you prеparing for a vacation and...